Soittoura
Kitaristi, laulaja, biisintekijä. Saksalaisen Ruf Records levy-yhtiön artisti. Noin sata keikkaa vuodessa (Saksa, Espanja, Belgia, Hollanti, Italia, USA, Ranska, Sveitsi, Itävalta, Serbia, Bosnia, Unkari, Puola, Englanti, Skandinavia). YHTYE: Davide Floreno; kitara, Iiro Kautto; basso, Rami Eskelinen; rummut. OPINNOT: Los Angeles Musician´s Institute (USA), Copenhagen Rytmisk Musikkonservatorium (Tanska), Malmö Musikhögskolan (Ruotsi), Sibelius-Akatemia.
Julkaisut
Erja Lyytinen: "Grip Of The Blues" Ruf Records 2008. Erja Lyytinen: "Dreamland Blues" Ruf Records 2006. DVD "Blues Caravan" Ruf Records 2006. "Pilgrimage Aynsley Lister, Erja Lyytinen, Ian Parker" Ruf Records 2006. Erja Lyytinen & Davide Floreno: "It´s A Blessing" Bluelight Records 2005. Erja Lyytinen: "One More Time" Bluelight Records Single 2004 Erja Lyytinen: "Wildflower" Bluelight Records 2003. Erja Lyytinen & Dave´s Special: "Attention!" Bluelight Records 2002
Kitarat
G&L Semi-Hollow Z-3, G&L Semi-Hollow, Gibson Chet Atkins Country Gentleman, Ville Tyyster Resonaattoridobro Blueskone, Ville Tyyster Les Paul Erja Lyytinen-model, Yamaha APX – 900, Fender Stratocaster (Mexico)
Vahvistimet
Monster El Mariachi 30 W, Monster El Mariachi 15 W, Monster La Magia Jousikaiku/Vibrato
Pedaalit
Mad Professor Deep Blue Delay, Mad Professor Little Green Wonder Overdrive, Mad Professor Sky Blue Overdrive, Vox V847 Wah-Wah, Boss Chromatic Tuner TU-2
Slideputket & pletrat
Dunlop Joe Perry Boneyard Slide, Dunlop Moonshine Ceramic Slide, Dunlop Porcelain Mudslide, Dunlop Jazz-III Picks, Dunlop Fingerpicks
Kielet
D´Addario Heavy Gauge .012-.053 (ylin kieli .015), D´Addario Regular Light Gauge .010-.046, D´Addario Phosphor Bronze .012-.053 (ylin kieli .015)
Suosikkiartisteja
Elmore James, Muddy Waters, Bonnie Raitt, Derek Trucks, Koko Taylor, Aretha Franklin, Kenny Burrell, Freddie King, Albert King, Brian Setzer, Ray Charles, Sonny Landreth, Robben Ford, Mike Stern, Emmylou Harris, Sue Foley, John Mayer..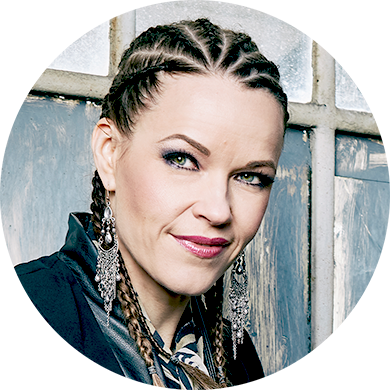 Erja Lyytinen on yksi tunnetuimpia suomalaisia blues-kitaristeja maailmanlaajuisesti. Oppitunnit myöskin bluesin maailmasta.